Aquasana Rhino EQ-600 is certified by NSF to remove 97% of chlorine for up to 600,000 gallons
Does not require electricity, drainage, or back flushing and does not create waste-water
Includes pre-filter, copper-zinc and carbon filtration stages with standard fittings
Filtering your water improves indoor air quality by reducing chemicals that vaporize in shower steam
Great tasting, healthy water throughout your home
FULL SYSTEM NSF CERTIFIED TO REMOVE 97% OF CHLORINE
Only the best whole house systems on the market can boast full system NSF Certification. The EQ-600 Rhino is NSF tested and certified to remove 97% of chlorine for 600,000 gallons or 6 years.
Full system NSF Certification guarantees:
Structural integrity of the entire system certified to NSF performance standards, ensuring the quality of your entire system and not just the filtration media
System is independently tested by NSF International to the gold standard of water filtration, validating testing claims made by Aquasana (Please see our Performance Data Sheet for complete test results).
WHOLE HEALTH
ΕΥΚΟΛΙΑ ΣΤΗΝ ΑΝΑΠΝΟΗ with cleaner, healthier air. Chlorine and volatile organic chemicals (VOCs) can evaporate in shower steam, contaminating the air you breathe. Instantly improve your indoor air quality by filtering the water throughout your home.
WHOLE HEALTH ULTRA DELICIOUS
Get clean, great-tasting water from every tap in your home by removing 97% of chlorine in regular tap water. Also reduces other harmful contaminants including:
Heavy metals like lead and mercury
Organic chemicals like herbicides, pesticides and VOCs
Industrial solvents and more
WHOLE HEALTH BETTER WATER BETTER COOKING
Top chefs know that using filtered water produces stronger flavors, quicker cooking times and all-around optimal results in the kitchen.
WHOLE HEALTH HEALTHIER SKIN AND HAIR
Reduce your body's exposure to harsh chlorine and synthetic chemicals that can cause damage and excessive drying. Bathe yourself in Aquasana filtered water for noticeably healthier, more moisturized skin and hair.
PURE PERFORMANCE SMARTER DESIGN
Engineered to maximize potent filtration media for ultimate performance. The Aquasana Rhino's unique upflow, dual tank design increases water contact time with contaminant grabbing media and prevents clogging or media channeling.
Unlike other whole house filters that require messy, complicated media replacements, Aquasana Rhinos are designed for quick, easy tank replacements. Long-lasting systems last 6 years or 600,000 gallons before needing to be replaced.
Please see our Performance Data Sheet for complete test results.
PURE PERFORMANCE INNOVATIVE TECHNOLOGY
SCM salt-free softening technologynaturally and safely reduces scale buildup on internal pipes and plumbing without the use of harsh salt or chemicals.Learn more about SCM technologyCompare the benefits of SimplySoft vs. Traditional Softeners
PURE PERFORMANCE OPTIONAL UV STERILIGHT FILTRATION
Worried about boil warnings because bacteria and chlorine resistant cysts are making your water non-potable? Get total home protection to safeguard against bacteria and viruses that may be present in your water.
POWERFUL UV FILTRATION KILLS 99.99% OF VIRUSES, BACTERIA LIKE E. COLI, AND CHLORINE RESISTANT CYSTS LIKE CRYPTOSPORIDIUM AND GIARDIA.

HOW IT WORKS SUPERIOR FILTRATION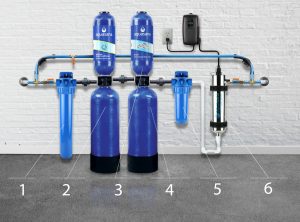 SEDIMENT PRE-FILTER catches rust, sediment and silt.
SALT-FREE SOFTENER* prevents minerals from binding and forming scale build-up.
COPPER-ZINC & MINERAL STONE reduces chlorine, water soluble heavy metals, and scale and inhibits bacteria and algae growth.
ACTIVATED CARBON FILTER reduces herbicides, pesticides and other chemical compounds that may be present.
SUB-MICRON POST-FILTER* reduces any remaining sediment and organic particles down to 0.35 microns.
UV FILTER* further protects against bacteria and viruses that could be present in your water.
PRODUCT INFORMATION
SPECIFICATIONS
BASE UNIT
SIMPLYSOFT
UV
LENGTH:
Please see chart on right
HEIGHT:
46″
46″
15″
DIAMETER:
9″
9″
4″
FLOW RATE (GPM):
7.0
7.0
7.0
CAPACITY (YEARS):
6
6
1
CAPACITY (GALLONS)
600,000
10″ PRE-FILTER LASTS 1-3 MONTHS, 20″ PRE-FILTER LASTS 2-3 MONTHS